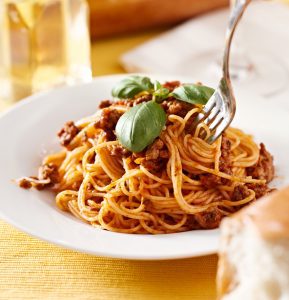 Grandma Guigliama Bartolucci was the matriarch of the Bartolucci Family. She immigrated from Italy to America nine years after her husband, Andrea Bartolucci had left to start a new life for them in the Napa Valley. Grandma Bartolucci was always in the kitchen or her garden on most days. She was hard working, kind hearted, and very frugal. She ran a boarding house for a while and was highly regarded for her cooking skills. She could take vegetables from her garden and create fantastic family dishes that her family has cherished for years. Our family has great memories of holiday feasts prepared by Grandma Bartolucci.
Enjoy with Pinot Noir, Merlot, Dolcetto, Barbera, Or Cabernet Sauvignon
Bartolucci Family Bolognese
3 tbsp. olive oil
1 lb ground beef
1 large yellow onion, diced
2 cloves garlic, minced
2 stalks celery, chopped fine
1 carrot, chopped fine
1 bay leaf
1 Tbsp. Italian Seasoning
1 package dried Italian mushrooms
(soak in water and reserve the juice)
1 cup Madonna Estate red wine
1 can tomato puree
1 large can of whole chopped tomatoes
salt and Pepper to taste
Heat the olive oil in a large stock pot. Add the garlic, onions and the ground beef. Cook the beef until browned. Once the beef is browned add the carrot, celery, Italian Seasoning, wine, whole chopped tomatoes, tomato puree, salt and pepper to the pot. Remove the soaked mushrooms from the water. Add the mushroom water and additional water to measure 1 ½ cups total. Add that to the pot. Chop the soaked mushrooms and add them to the pot. Simmer a few hours until the flavors have blended. Remove and discard the bay leaf before serving sauce. Accompany sauce with your favorite prepared pasta. Enjoy with a glass of your favorite Madonna Estate red wine.